Interview with Ed Buckbee
Ed Buckbee, an author, lecturer, space advocate and director emeritus, has been associated with the U.S. space program for four decades. Buckbee began his space career in 1959 when America's first Mercury astronauts were selected. He attended the launches of Alan Shepard and John Glenn and was a colleague of Neil Armstrong when the Apollo astronauts lifted-off for the moon landings. He continues to be associated with America's space program as an advocate of human space flight.
Speaking to Dr Syeda Kareema Ghouse, Mr Buckbee, who described what the International Space Program has done in last five decades, as just a glimpse of the Space which is yet to be explored. He urged the younger generation to explore the possibilities of peaceful space exploration on international standards and further discover what is left to be uncover.
When asked to introduce himself, Mr Buckbee, who hardly needs any introduction in the world of space and rockets, recounted that he started working with NASA after he finished his college. After about a decade, he felt the necessity of teaching the younger generation which led to foundation of US Space Camp and Rocket Centre.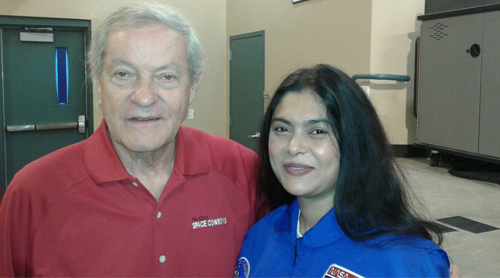 Dr Syeda Kareema Ghouse, who aims at propelling Indian students towards space programs was enthusiastic when Mr Buckbee appreciated the Indian students on their hard work and competitive spirit. He welcomed the aspirants among the younger generation of India to learn, explore and share the uncovered mystic space.
NASA RSS Feeds